Wedding Chocolates from
Creative Chocolates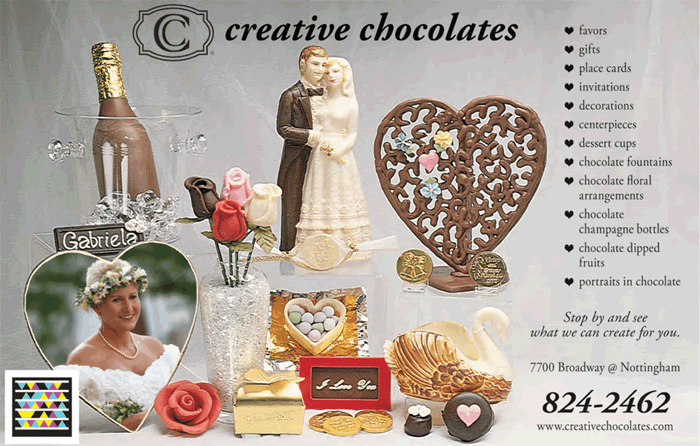 There is a place in every wedding for fine chocolates: invitations, place cards, favors, centerpieces, cake decorations, special gifts, and more. Let Creative Chocolates help make your wedding memorable from the very first shower to the rehearsal dinner to the reception after...
We have many designs available for most items, or we can hand-design one to follow your special theme.

Invitations — Imprinted Chocolate Invitations make a unique and memorable start for your shower or wedding...

Place Cards — For the shower, rehearsal dinner, or wedding reception, make each place setting unique with a hand lettered Chocolate Place Card. You can use the bride's name (or both bride and groom) on all the place cards, or place the individual guest's name on each one.

Favors — Individual Foiled Chocolate Coins or attractive boxes filled with delicious chocolate! These can be imprinted with initials, names, dates, phrases and/or wedding bells ... Great for showers, dinners or the reception...

Centerpieces — Cinderella's Carriage with horses, a gazebo, swans, or many other unique items can be the centerpieces on your wedding tables.

Cake Tops — A chocolate Bride and Groom for the wedding cake and almost any conceivable assortment of two- and three- dimensional objects for the groom's cake will make a lasting impression.

Dessert Cups — Chocolate hearts filled with mousse or ice cream can add that special touch to the dessert table.
Special Gifts — For the bridesmaids and maid of honor or best man — what better way to say "Thank You!" than with a luscious chocolate hand-made plaque or gift box?

Questions? Call us at (210) 824-2462 or e-mail us...
Extra!! See our ad in San AntonioWeddings magazine!
---
[ Home Page | Custom Chocolate Amenities | All Occasion Chocolates ]
[ Custom Chocolate Specialties | Texas/Western Specialties | Shipping/Ordering ]
[ Want a Catalog, Sample or Brochure? Click here! ]