Custom Amenities from
Creative Chocolates
Creative Chocolates can provide a wide range of individual and boxed chocolates and other candies for use as amenities and gifts at corporate functions, hotels, restaurants, wedding parties and other venues.


---


Foiled Chocolate Coins


Click here for information on chocolate coins.
Scrumptious foiled chocolate coins with thousands of standard and custom image possibilities.
With a shelf life of 6-12 months or longer, these chocolates make an ideal amenity.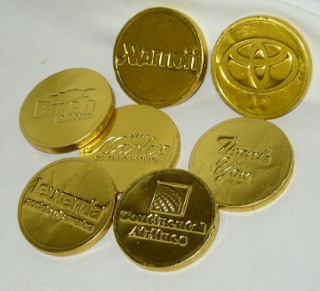 Hospitality Mints / Candies


A variety of delicious candies - including buttermints, soft and hard peppermints, jelly filled mints, chocolate covered buttermints, cinnamon balls, and others in individual custom imprinted puff-pillow packaging. In quantity, the average cost is as low as 3-7 cents each. With a shelf life of 3 to 6 months or longer, these candies make an ideal amenity. Call for pricing on specific candies, packaging and quantities.

Boxed Chocolate Amenities and Gifts

Creative Chocolates can provide amenities or gifts of almost any size in specially designed boxes, with or without your logo or message imprinted on the box. You may select from a variety of attractive standard packages that can be made unique with your imprinted design or let us design a special package for you.

Call us at (210) 824-2462 for more information... or e-mail us.

We'd love to create that special touch for you.

---

[ Home Page | Custom Chocolate Specialties | All Occasion Chocolates ]

[ Wedding Chocolates | Texas/Western Specialties | Shipping/Ordering ]

[ Want a Catalog, Sample or Brochure? Click here! ]